In April 2019, Prospect – one of UNI's affiliates – collaborated with the Young Workers Lab to trial the digital survey tool ThoughtExchange with approximately 770 archaeologists in the UK. For one week, archeologists could safely and anonymously answer the question:
'What are the biggest challenges for the future of archaeology in the UK?'
Our aim was to test how digital tools can drive collective action within decentralized communities, particularly those populated by young workers. ThoughtExchange improves on the average digital survey by allowing participants to see and rate each other's anonymous responses. It functions like an in-person gathering, but one in which everyone is anonymous.
'ThoughtExchange allowed us to reach out to workers in a particular sector, and discover a lot about their views and experiences, as well as how others related to them,' said Steph Izzard, Digital Project Officer at Prospect. 'When analysing the results, it felt like we were able to see and hear how people really felt about their working lives, a lot more than we would from a static survey.'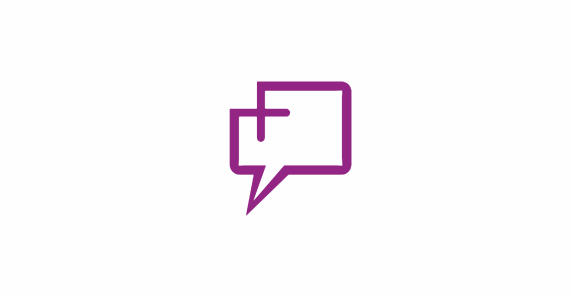 This test was part of an ongoing initiative at the Young Workers' Lab to see how digital technologies can be used by unions and young workers to improve young workers' job quality and voice in the digital world of work.
Power in Union Facilitated Anonymity
Since ThoughtExchange is anonymous, it allows union members to have their voices heard no matter how old they are, where they are located, or how big the group is. This gives young members an equal footing with older members, as well as with members of a different gender or level of seniority.
One strength of the tool is that it shows how opinions in a group cluster and diverge. With the help of the backend analytics of the ThoughtExchange platform, a union can identify which issues the group agree on, or are in disagreement about. This is really helpful information that allows the union to find sticky issues and reach a compromise.
A look at one of the core eight issues that divided the group.
'Asking members to open up about their lives, and sometimes on controversial subjects is a big thing, and I think it's really important to hear the answers in the way they were intended, so we can act on what is real,' said Steph, 'After all, we're talking about human beings, not statistics.'
Lesson: Engagement Takes Tact
Although the results are intriguing, they did not come without some careful organizing. Running a ThoughtExchange is like hosting a virtual event or campaign. It takes time. The initial invitation was sent out on a Monday. The email Open Rate (OR) was 50% with a Click Rate (CR) of 25%. The exchange was open for one week with four emails total being sent out in that time.
Over the week, two reminder emails with a URL were sent to members to tempt participation. The first went to those who didn't open the launch email (OR: 63%, CR: 20%). The second went to those who did open the launch email (OR 25%, CR 20%). A thank you email to membership group after the exchange closed was opened by 40% of members.
'Oh how important the design of a question can be!' said Steph after the fact. 'It seemed at first like a fairly basic thing, but as the project progressed, it became an absolute priority for me. Getting the basics of communication and user journey design right meant we could really make the most of the trial.'
Survey Results
Of a possible 770 participants, 123 took part in the survey; a 16% participation rate. 62 members shared a total of 191 thoughts and 68 rated thoughts. The group produced a total of 3651 rankings.
Although results are private, the answers touched on both personal and collective issues. Financial questions lived alongside safety, membership experience, gender experience, and sector specific concerns.
'Allow more time for planning' Steph advised, 'Planning what communications and actions will take place before, during, and especially after the exchange can really improve performance, as well as the quality of information you get back.'
She added, 'Even when teams are busy, by having a checklist or guide of things that should be covered off before commencing with an exchange, it means no matter how much or little time you have, you can still get the key parts in order.'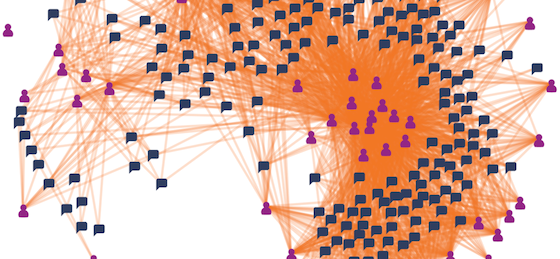 A visualization of ties between anonymous users and the rankings they give to submissions.
Preliminary Reflections
ThoughtExchange does not in any way replace the in-person town hall or the phone call from an organizer. It may, however, help a union confirm key issues for their members. 'It has shown me a different way of working,' Steph shared, 'and a whole new approach to recruiting, retaining and organising members of a union (or any membership organisation, really!).'
One benefit of this exchange was that it surfaced topics that were not immediately obvious. All it takes is one user to submit their personal experience before others reflect and add commiseration about the same.
ThoughtExchange uses natural language processing to group these answers automatically into clusters that reflect the key issues from the campaign. We spent an extra two or three hours afterwards checking that these clusters were correct. We ended up moving from twelve or so topics down to seven, since a few were similar.
Final Thought: 👍
Steph confirmed that she would highly recommend ThoughtExchange. In fact, Prospect is already using it to engage with other members!